When we said we were doing goat yoga people either totally got it or were completely confused. Disgust was sometimes thrown in, as well as judgement and a heavy dose of jealousy. "Why would you want to do that?" was a question I got a lot. "Why wouldn't you?" was my usual response. Yoga with a sweet animal seems as beautiful a combination as chocolate with peanut butter. Similarly, as I watched videos of goats jumping on the backs of students in downward dog, I wondered why no one had ever thought of it earlier. Apparently, there are others of the same opinion because the class was packed. Students varied from advanced and practicing handstands to novices who were clearly only there for the goats.
A typical yoga class begins quietly; students sit with eyes closed as a barefoot teacher weaves among mats softly instructing students not to compare themselves with other as yoga is a personal practice. Lights are turned down or off to help encourage an inward focus but it doesn't work. People constantly look at what others are doing, causing silent rivalries over flexibility, strength, body shape as well as fanciness of yoga clothes and mats. When you have goats wandering between students, all of that is eliminated, in fact the first rule is do not wear anything nice since they will chew on your clothes. Also, leave your Manduka and Liforme at home as the goats will leave hoofprints, oats and maybe more on your mat. It's impossible to compete with your neighbor when one of you has a 30 pound livestock standing on your back. The few students who were trying to show off looked silly and were quickly upstaged by other students laughing and exclaiming. It was the most relaxing, joyful and bonding yoga class I have ever taken, it was what I felt yoga is supposed to be. The studio, the music, the pre-class tea were irrelevant, even the teacher who was fantastic contributed in no way to the power of the experience, it was purely Pippen and Spanky who guided our practice.
This week we celebrate St. Francis who believed that nature was a reflection of God. He called all creatures his brothers and sisters and supposedly preached to the birds. Francis was the first person to create a live nativity set with animals so that worshippers could contemplate the birth of Jesus in a direct way, using all their senses. We honor his ministry by welcoming and blessing the animals in our midst. The Blessing of the Animals is one of my favorite services of the year yet it's one met with mixed emotions; people either feel animals in worship is inappropriate whereas others see it as heightening the experience. Whatever your opinion, I hope this Sunday the animals help remove any usual distractions and you are able to experience God and one another in a simpler, sillier and more wonderful way.
Upcoming Yoga Opportunities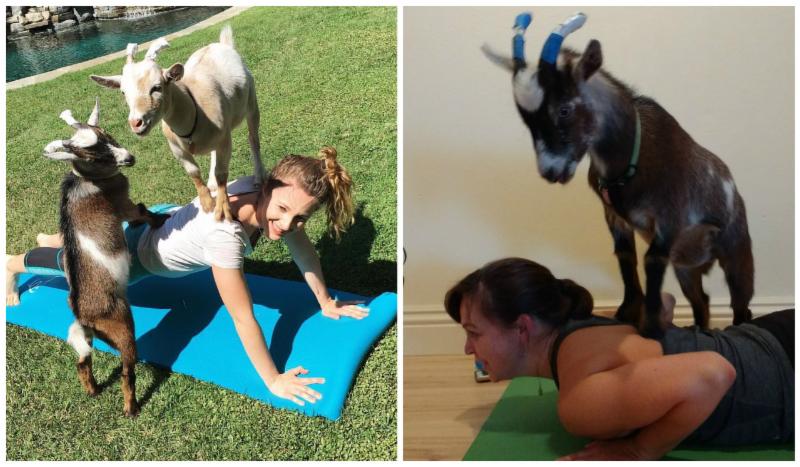 Spanky and Pippen want to come to St. Edmund's! We are looking at offering goat yoga here on Sunday, November 12th.
Photo ops and petting zoo will be available after church,
followed by an hour long class starting at 11:45 am.
Please RSVP if you are interested, class will be $25 per person.
~ Upcoming Events ~
Sunday, October 1
Team 1 Acolyting
Blessing of the Animals
Please note we will not be having Family Worship or Sunday School.
Bring your pets to our special worship.
Confirmation Class
4-6 pm | Church
~
Sunday, October 8
Team 2 Acolyting
Recognition of Darlene Porter & Installation of Liz Westphal
as Director of St. Edmund's Nursery School.
Family Worship
10 am | Chapel
Sunday School
10:30 am | Sunday School Classrooms
Teaching: Shannon, Antonio and Heather
~
Friday, October 13
SENS Fall Festival
4:30 pm – 6:30 pm
~
Sunday, October 15
Team 3 Acolyting
Family Worship
10 am | Chapel
Sunday School
10:30 am | Sunday School Classrooms
Teaching: Shawna, Allison, Antonio and Heather
~
Sunday, October 22
Team 4 Acolyting
Family Worship
10 am | Chapel
Sunday School
10:30 am | Sunday School Classrooms
Teaching: Rebecca, Antonio and Heather
~
Sunday, October 29
Confirmation Sunday
Visit from Bishop Bruce
Send -Off for the Smythes
We would like to have as many Acolytes as possible
for this very special day.
Please join us as we celebrate our confirmands and
as we say a very hard "goodbye" to Father Colville and Sylvia.
~
Sunday, November 5
Team 1 Acolyting
Family Worship
10 am | Chapel
Christmas Pageant Rehearsals
10:30 am | Sunday School Classrooms
Teaching: Antonio and Heather
Please feel free to contact Heather if you have questions.