Matthew 3
In those days John the Baptist came,
preaching in the wilderness of Judea and saying,
"Repent, for the kingdom of heaven has come near."
This is he who was spoken of through the prophet Isaiah:
"A voice of one calling in the wilderness,
'Prepare the way for the Lord,
make straight paths for him.'"
John's clothes were made of camel's hair,
and he had a leather belt around his waist.
His food was locusts and wild honey.
People went out to him from Jerusalem and all
Judea and the whole region of the Jordan.
Confessing their sins, they were baptized by him in the Jordan River…
…"I baptize you with water for repentance.
But after me comes one who is more powerful than I, whose sandals I am not worthy to carry."
"Dirt or tan line?" was the game my friends and I often played during our semester at Jerusalem University College. After a day walking in the intense desert sun, it was sometimes hard to tell. Even though modern Jerusalem is a very clean city, when I lived there I remember being amazed at the perfect Birkenstock outline of dirt that seemed to permanently stain my feet. Every night as I scrubbed and scrubbed and scrubbed, I could only imagine what first century feet looked like after walking through a city with rudimentary plumbing, ritual sacrifices and streets filled with almost as many livestock as people. I think it's safe to say that Jesus' feet had to have been nasty.
Feet were part of what John the Baptist was cleaning as he stood in the Jordan River, preaching that everyone needed to repent and be made clean. Look at your feet, the state of your sole is the state of your soul, the Messiah is coming so everyone needs to get clean inside and out. In the midst of baptizing and dunking people he begins describing this Messiah. He says that this man will be so great that he (John) isn't worthy to untie his sandal. However nasty feet are, I think its safe to say that shoes are way worse. Even in the best of circumstances touching something that has been on someone else's feet is ickiness wrapped in a mysteriously damp, wool blanket of repulsiveness. Again, when we compare the almost sterile circumstances in which we live in today to those of first century Middle East, the one pair of shoes owned by a person back then had to have been rough. Here John, a teacher people have come from all over to hear, is standing barefoot in a river, saying that he isn't worthy to even touch the sweaty, dusty, crusty, bacteria absorbent leather of Jesus' shoes.
Humility and full awareness. Despite his rather large following, John knows he is just the forerunner, he's the warm up, the roadie for Jesus and he's the first to admit it. This is hard when you have as much power as he had. He could have claimed a lot more fame than he did but all of the attention he gained, he redirected to the Messiah. Everything he did was to bring people back to God. This afternoon and evening as we collect ashes on our foreheads, may we be reminded of our humility as well. Despite what role we have in our family and our society, may we remember what role we have in the universe. We didn't create God, God is creating us. May everything that we do point back to God's power and presence in our world.
~ Scenes from Last Sunday ~
You may have heard Lacy scream a desperate yet still elegant "Water break!!!"
as you exited worship. The kids were involved in an intense one-handed hockey game as they learned about a man with a shriveled hand who was healed by Jesus.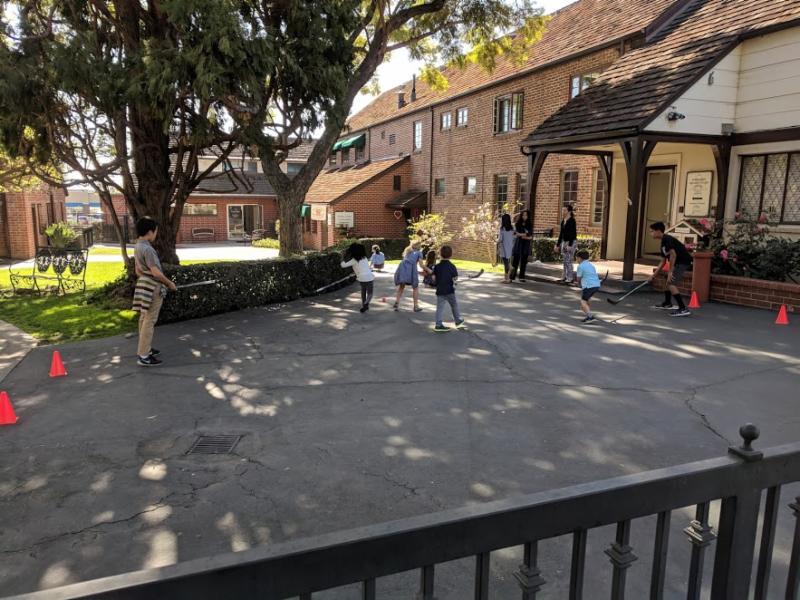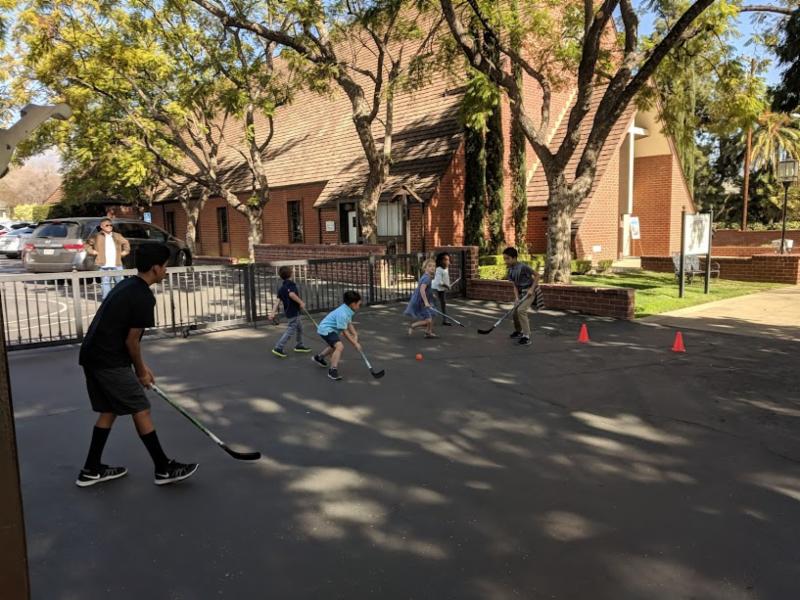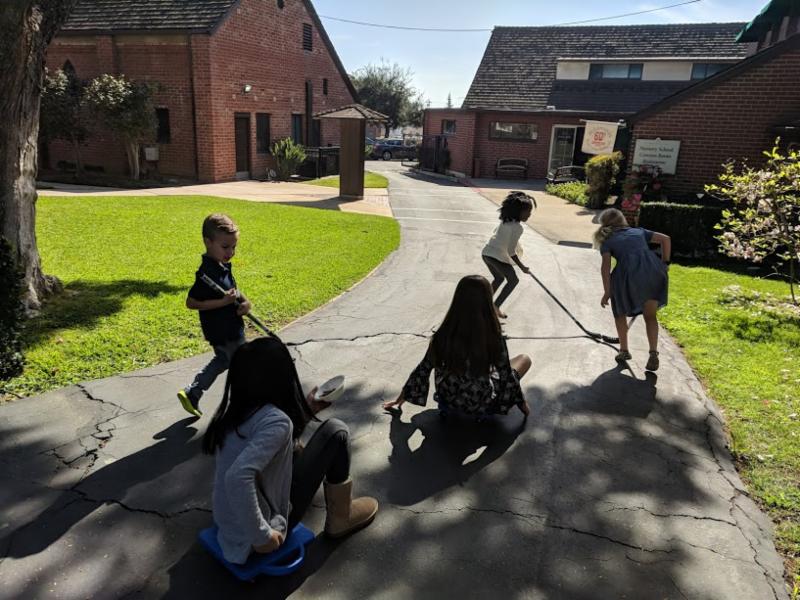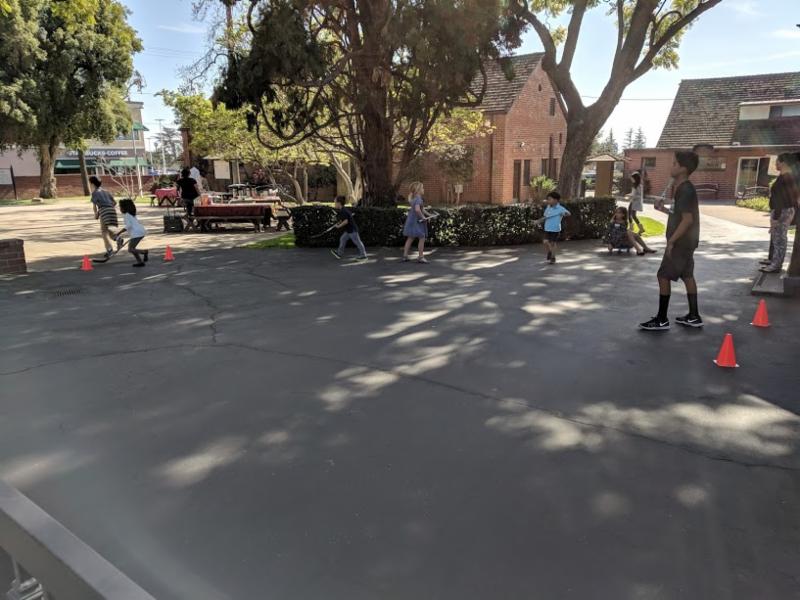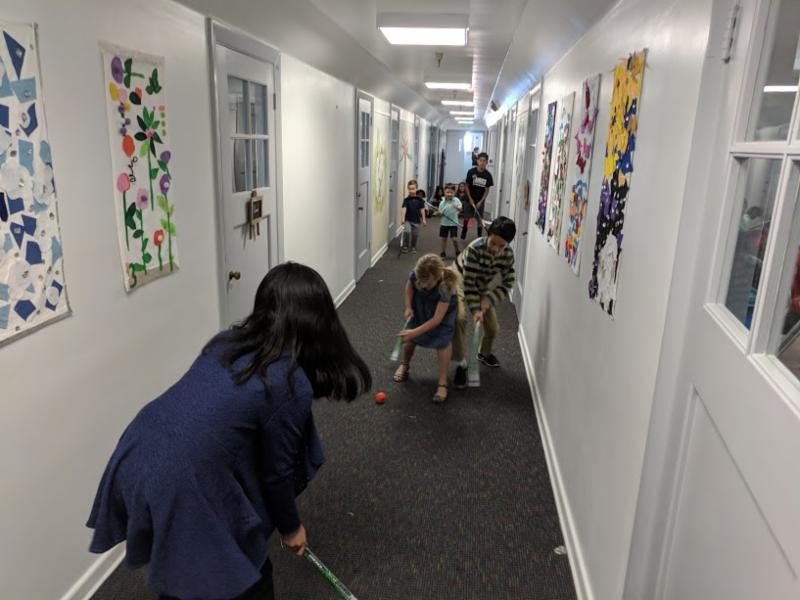 ~ Upcoming Events ~
We Still Need a Vote!
Aladdin is playing at the Pantages and we would like to organize a trip to see it. We have two dates in mind, if you are interested
please Heather or Antonio know which date you prefer so we can get tickets before they run out.
Options are:
Sunday, March 25th at 6:30 pm. Tickets are $50
or
Tuesday, March 27th at 8 pm. Tickets are $35.
(this is spring break week for San Marino USD)
~
Friday, February 16
Trip to SkyZone, Covina
We will be meeting outside the Park at 3 pm
Please RSVP to Heather
~
Sunday, February 18
Team 3 Acolyting
Sunday School
10 am | Sunday School Classrooms
Please note that we will not be having Children's Liturgy this Sunday,
all students can do directly to the Sunday school classrooms.
~
Sunday, February 25
Team 4 Acolyting
Children's Liturgy
10 am | Chapel
Sunday School
10:30 am | Sunday School Classrooms
~
Wednesday, February 28
The Many Colors of Holi
3:45 – 4:45 pm
Norton Simon Museum
Free for kids under 18!
Holi is a Hindu festival that celebrates the end of winter and represents renewal or new life. Look at Krishna Fluting in Vrindavan and learn how Holi originated from the story of Krishna, his love for Radha and his attempt to color her skin so that it matched his own. Create an artwork using an airbrush technique to spray color in an expressive way and bring this story to life.
Please RSVP as space is limited to 15
~
Sunday, March 4
Team 1 Acolyting
Children's Liturgy
10 am | Chapel
Sunday School
10:30 am | Sunday School Classrooms
Teachers: Shawna, Antonio and Heather
Youth Group
5-7 pm
~
Sunday, March 11
Team 2 Acolyting
Children's Liturgy
10 am | Chapel
Sunday School
10:30 am | Sunday School Classrooms
~
Sunday, March 18
Team 3 Acolyting
Children's Liturgy
10 am | Chapel
Sunday School
10:30 am | Sunday School Classrooms
~
Spring Break Activities
Don't be bored this spring, join us for fun!
Monday, March 26
Natural History Museum
Critter Club
10-10:45
Critter Club is a family friendly program that introduces 3- to 5-year-olds and a participating adult to the Museum's live animals.
Junior Scientists
10:30 am to 12:00 pm
Junior Scientist is specially designed for 6- to 9-year-olds and their families. Packed with activities, demonstrations, and an up-close look at some cool (and sometimes creepy crawly) highlights from our collection, each month is a crash course in one of the many fields of science explored at the Museum.
~
Wednesday, March 28
Kidspace Museum for Caterpillar Adoption Days
~
Thursday, March 29
California Science Center
King Tut Exhibit and Imax
~
Friday, March 30
Big Bunny's Spring Fling at the LA Zoo
"Spring into fun" with this annual celebration featuring musical entertainment, crafts, photo ops, special animal encounters, education stations, and much more.
Please feel free to contact Heather if you have questions.