Acts 9:1-4a
In Jerusalem Saul was still trying to frighten the followers of the Lord by saying he would kill them. So he went to the high priest and asked him to write letters to the synagogues in the city of Damascus. Saul wanted the high priest to give him the authority to find people in Damascus who were followers of Christ's Way. If he found any there, men or women, he would arrest them and bring them back to Jerusalem.
So Saul went to Damascus. As he came near the city, a bright light from heaven suddenly flashed around him. Saul fell to the ground.
It was the usual walk home from school, schoolbooks in hand, discussing the day's events when suddenly the three boys heard that infamous cackle from behind the dilapidated fence. They freeze in their tracks, their breath visibly quickening in the cold. Slowly they turn as a head covered in a coonskin cap peeks around a slat. We hear:
"Scut Farkus, what a rotten name. We were trapped!
There he stood between us and the alley,
Scut Farkus staring out at us with his yellow eyes.
He had yellow eyes, so help me God, yellow eyes!"
Farkus jumps out from behind the fence roaring and the three boys run the opposite direction only to be met by Grover Dill, Farkus' crummy little toady who was hiding behind the dumpster. The narrator says Grover "… was mean, rotten, his lips curled over his green teeth." Farkus grabs a kid named Swartz, pinning his arm behind his back until Swartz cries "uncle". Finally, the kids are able to escape this horrible bully and run on home.
If there was a Scut Farkus in scripture it would Saul who later becomes Paul. Before his famous conversion, Saul makes a few cameos in the early part of Acts as if peeking through broken down fences, waiting for innocent people to cross his path, at times seeking out harmless people to beat up. Sometimes when I am reading in Acts about how Saul skulked around synagogues looking for Christians to persecute I can almost hear Jean Shepherd say, "He had yellow eyes, so help me God, yellow eyes!" We can look at Saul, Scut and all the other bullies in history and wonder, what is their problem? Why would someone spend so much time and energy trying to hurt others? Why was Saul and why are many others since him so threatened by other people's beliefs or lifestyles that they can justify abusing, torturing or even killing them? In my opinion its simple insecurity, the root of most evil. Their so- called tough and gruff exterior screams "victim" and speaks to someone who is fully aware their power is temporary. They know that it is only time before they, like Saul, get slammed of their horse.
In A Christmas Story, Ralphie gets revenge when Farkus picks the wrong day to bully him. Ralphie smashes into him, knocking him flat on his back and begins raining punches on his face. The scene is bloody and gross, kids gather to watch as Farkus cries for help. Eventually Ralphie's mom pulls him off and guides him home, leaving a bloody Farkus to face all the kids he has terrorized. I always find it interesting that Ralphie's mom just leaves this kid in a pool of his own blood. She doesn't even look at him, it's like she hates him too. I think that's the core issue, usually bullies are people no one else cares about. They are ignored, often abused themselves and have learned to use fear to get attention. While I have no advice for dealing with bullies other just waiting for them to get what they have coming, I do believe we can play a part of preventing future ones from being created by reaching out to the younger person we know who seems susceptible. Perhaps finding ways to encourage them and support them. Finding ways to break out of the insecurity and cycles of hatred in which they are trapped.
~ Notes ~
On Sunday, May 20th Antonio is hoping to attend a funeral and will not be able to help with Sunday school. If anyone is willing to help teach that day we would be very appreciative.
Also, the Bartolomes will be in Cuba on Sunday, June 10. If you are able to teach that Sunday please let either Heather or Antonio know.
Thank you!
~ Street Hockey Madness ~
Thank you so much to all who have donated sticks! We currently have received six which will be put to good use very shortly.
Thank you so much for your generosity.
~ Sunday at the Beach and Paddleboard Yoga ~
The study of Acts will take us through the middle of July.
What better to complete a book full of islands and shipwrecks than
by spending a Sunday at the beach!
Mother's Beach in Marina del Rey is a beautiful spot with lots of parking, nice bathrooms, calm water, life guards, picnic areas and a playground. Families are welcome to join us at any point during the day and stay as long as they like.
The Sundays in July are being considered for this trip to the beach, if you have a preference or any questions please contact Heather.
If you want to come for some early morning sun and stretching, join us for Paddleboard Yoga! The first 30 minutes of the class is dedicated to learning how to properly use a paddleboard and enjoy a peaceful paddle around the harbor. The remaining hour is dedicated to yoga on the paddleboard. Each board has an individual anchor that is dropped down before the Yoga portion of class begins so that the student does not drift away while focusing on their practice. YOGAqua classes are open to "all levels". Students are taken through a Vinyasa Yoga flow with customized and detailed instruction for the paddleboard so even if they have not been practicing yoga for years, or if they have never been on a paddleboard, they will be able to follow along with no problem.
A single class costs $44 which includes use of a paddleboard.
~ Scenes from Last Week ~
Following a discussion about the disfigured man from Ethiopia
we made play dough. While we may differ in our color and shape,
we are all made of the same ingredients.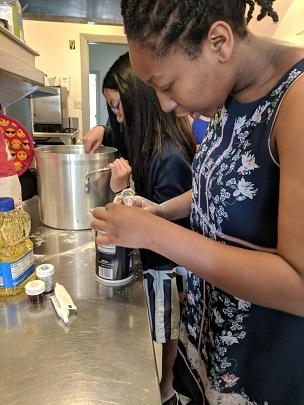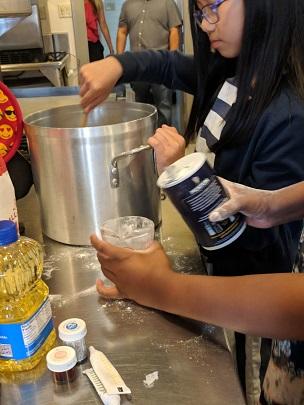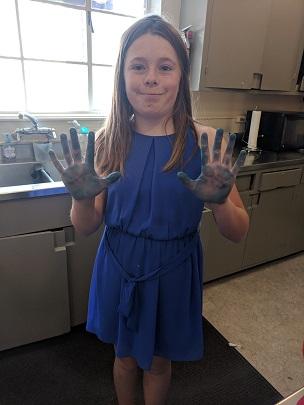 ~ Upcoming Events ~
Sunday, May 13
Mother's Day
Children's Sermon Sunday
Team 2 Acolyting
Children's Liturgy
10 am | Chapel
Sunday School
10:30 am | Sunday School Classrooms
~
Sunday, May 20
Team 3 Acolyting
Children's Liturgy
10 am | Chapel
Sunday School
10:30 am | Sunday School Classrooms
Youth Group
5 – 7 pm | Youth Room
~
Sunday, May 27
Team 4 Acolyting
Children's Liturgy
10 am | Chapel
Sunday School
10:30 am | Sunday School Classrooms
~
Sunday, June 3
Team 1 Acolyting
Children's Liturgy
10 am | Chapel
Sunday School
10:30 am | Sunday School Classrooms
Teaching: Shawna, Heather & Antonio
~
Sunday, June 10
Team 2 Acolyting
Sunday School
10 am | Sunday School Classrooms
~
Saturday, June 16
History Day
8:30 am – 2 pm
Bring your kids as you celebrate why you came to St. Edmund's, why you stay and what you would like to see in the future. Heather and Antonio will be outside with the Slip n Slide, hockey an ice cream.
A continental breakfast and lunch will be provided.
~
Sunday, June 17
Team 3 Acolyting
Children's Liturgy
10 am | Chapel
Sunday School
10:30 am | Sunday School Classrooms
Please feel free to contact Heather if you have questions.