Acts 17:16-23
16 While Paul was waiting for them in Athens, he was greatly distressed to see that the city was full of idols. 17 So he reasoned in the synagogue with both Jews and God-fearing Greeks, as well as in the marketplace day by day with those who happened to be there. 18 A group of Epicurean and Stoic philosophers began to debate with him. Some of them asked, "What is this babbler trying to say?" Others remarked, "He seems to be advocating foreign gods." They said this because Paul was preaching the good news about Jesus and the resurrection.19 Then they took him and brought him to a meeting of the Areopagus, where they said to him, "May we know what this new teaching is that you are presenting?20 You are bringing some strange ideas to our ears, and we would like to know what they mean." 21 (All the Athenians and the foreigners who lived there spent their time doing nothing but talking about and listening to the latest ideas.)
22 Paul then stood up in the meeting of the Areopagus and said: "People of Athens! I see that in every way you are very religious. 23 For as I walked around and looked carefully at your objects of worship, I even found an altar with this inscription: to an unknown god. So you are ignorant of the very thing you worship-and this is what I am going to proclaim to you.
I miss Ask Jeeves, his replacement, ask.com just isn't the same. I miss the little picture of the guy. I think it's because of him – I refer to that site as him- that I still tend to type full on questions into my Google search bar. A glance at my history would show searches trailing the sad contents of my brain with questions like: "what should I cook for dinner? "What does my dad want for his birthday?" and, thanks to my chronic anxiety, "what are symptoms of metastasized cancer?" Buried in a list of suggestions, I can almost always find what I am looking for. This has become such a crutch and has provided so much peace of mind that sometimes I find myself asking things I know even Jeeves couldn't answer. Last month a friend and neighbor of ours passed away, she was found in her home by police doing a wellness check. I happened to be outside, swimming with my son when I saw the coroner arrive, snap open the cold and rudimentary stretcher and then later come out with a body wrapped in a bag. My friend was 48, single, lived alone and if she was sick she never let us know. Since that afternoon, there have been several nights where I have found myself searching for an obituary, searching for an answer and have even typed the question, "how did Winnie die?". Of course, there is no answer and on those nights I always go to sleep feeling empty and a bit abandoned.
The people who lived in Ancient Athens had their own ways of finding answers to life in that they worshipped a pantheon of gods. An ancient proverb declared that there were more gods in Athens than men. When Paul arrived, he would have entered Athens by the "Double Gate" on the west side of the city, where four highways converged. Passing through these gates, he would have seen the Temple of Demeter with statues of the goddess and her daughter. A little further on he would have passed the statue of Poseidon hurling his trident. Beyond this, he would have seen the statues of Healing Athena, Zeus, Apollo, and Hermes standing near the Sanctuary of Dionysus. While Paul waited for Silas and Timothy, whom he had instructed to join him as soon as possible (Acts 17:15), he must have explored the city in the same manner in which tourists do today. He could have visited the Royal Colonnade, the Metroum or Sanctuary of the Mother of the Gods with her image. In the agora the Apostle would have passed what sometimes called "the Music Hall at Athens," the odeon, a small roofed theater. In the agora the Athenians had an altar of Mercy, which stood in a grove of laurels and olives. Close to the agora, in the gymnasium of Ptolemy, there was a stone statue of Hermes, and a bronze statue of Ptolemy. Wherever Paul turned, he must have seen statues, temples, and shrines.
There was the Sanctuary of the Dioscuri, the Serapeum in the lower part of this city, the Temple of Olympian Zeus southeast of the Acropolis, the Pythium on the southern side of the Acropolis, the Sanctuary of Dionysus at the foot of the Acropolis, and many more. Entering the Acropolis, he would have passed two statues of horsemen facing each other on opposite sides of the road. On his right, on the western edge of the Acropolis, was the Temple of Victory Athena, the so-called Wingless Victory. Paul would have looked towards the sea and seen the Bay of Phaleron, perhaps with grain ships from Alexandria, Egypt. If he didn't visit it, Paul surely would have seen the most famous and beautiful of all Greek temples, the Parthenon, and then the Erechtheum standing on the northern edge of the Acropolis. Here his eyes must have fallen on the oldest and most venerated statue of Athena, which like that of Diana of Ephesus, was believed to have fallen from heaven. Finally, there was the most conspicuous statue of the city-goddess, a dedication from the spoils of the Battle of Marathon. Wherever the Apostle looked, in niches and on pedestals, in temples and on street corners, he would have seen gods and demigods. Busts of Hermes were on every corner and statues and altars were in the courtyard of every home. Among this forest of deities Paul discovered one altar dedicated to the "unknown god", created to ensure that no deity was omitted from worship. Paul refers to this altar as he tells the Greeks about Jesus. He begins "I can see that in many ways you are very religious, you are very curious."
If Paul were here now, instead of statues and altars everywhere he would instead see a city full of people looking down at their phones, looking at stuff, reading stuff, clearly seeking something. I can almost here him say "People of Los Angeles, I can see in every way that you are curious, you are needing validation and an escape". I can also hear him go on to talk about those weird times when our phones actually don't provide the direction, the clarity or the love that we need. For that he would point to Christ, that is where we can find the answers we need.
When I think about my friend it kills me to know that my friend died alone and on those nights when my phone provides no answers, I have no peace of mind, that is until I put down my phone and reach for God instead. She was a huge heart of a person who was so generous. When I ask God why did she die all alone, I hear in my heart God saying that she died with Him, in His arms. She was never alone and she will certainly never feel alone again. Like us, the ancient Greeks did a great job trying to cover all of their bases, trying to make sure they had everything they needed at their fingertips. Paul points to that altar and praises them for even thinking of that crutch god, the "just in case god" and he tells that that Jesus is the everything you don't even know you need. When you have him, you realize all the rest if just stone.
Substitute Teacher Needed
June 10 Heather and Antonio will be on vacation.
If you are able to assist with teaching that Sunday,
please let them know as soon as possible. All materials will be provided.
Summer Reading Challenge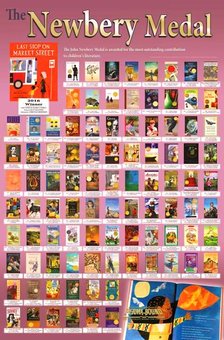 This summer Heather is going to try to read as many Newbery Medal Award winning books as she can. Join the challenge and see if you can out-read her! For a list of books click here.
~ Upcoming Events ~
Sunday, June 3
Team 1 Acolyting
Children's Liturgy
10 am | Chapel
Sunday School
10:30 am | Sunday School Classrooms
Teaching: Shawna, Heather & Antonio
Youth Group
5 pm -7 pm
Pool Party at Heather & Antonio's
801 East Walnut St. Pasadena
Please RSVP by Friday
~
Sunday, June 10
Team 2 Acolyting
Sunday School
10 am | Sunday School Classrooms
The Bartolomes (a.k.a Antonio and Heather) will be in Cuba on Sunday, June 10.
If you are able to teach that Sunday please let either Heather or Antonio know.
Thank you!
~
Saturday, June 16
History Day
8:30 am – 2 pm
Bring your kids as you celebrate why you came to St. Edmund's, why you stay and what you would like to see in the future. Heather and Antonio will be outside with the Slip n Slide, hockey an ice cream.
A continental breakfast and lunch will be provided.
~
Sunday, June 17
Team 3 Acolyting
Children's Liturgy
10 am | Chapel
Sunday School
10:30 am | Sunday School Classrooms
~
Sunday, June 24
Team 4 Acolyting
Children's Liturgy
10 am | Chapel
Sunday School
10:30 am | Sunday School Classrooms
~
Sunday, July 1
Team 1 Acolyting
Children's Liturgy
10 am | Chapel
Sunday School
10:30 am | Sunday School Classrooms
~
Sunday, July 8
Sunday at the Beach and Paddleboard Yoga
The study of Acts will take us through the middle of July.
What better to complete a book full of islands and shipwrecks than
by spending a Sunday at the beach!
Mother's Beach in Marina del Rey is a beautiful spot with lots of parking, nice bathrooms, calm water, life guards, picnic areas and a playground. Families are welcome to join us at any point during the day and stay as long as they like.
If you want to come for some early morning sun and stretching, join us for Paddleboard Yoga! The first 30 minutes of the class is dedicated to learning how to properly use a paddleboard and enjoy a peaceful paddle around the harbor. The remaining hour is dedicated to yoga on the paddleboard. Each board has an individual anchor that is dropped down before the Yoga portion of class begins so that the student does not drift away while focusing on their practice. YOGAqua classes are open to "all levels". Students are taken through a Vinyasa Yoga flow with customized and detailed instruction for the paddleboard so even if they have not been practicing yoga for years, or if they have never been on a paddleboard, they will be able to follow along with no problem.
A single class costs $44 which includes use of a paddleboard.
Please feel free to contact Heather if you have questions.