In a pastoral letter to the Diocese of Los Angeles issued on Jan. 24, Bishop John Harvey Taylor spoke to a resolution from the July 2018 General Convention that suspends the statute of limitations on reporting acts of sexual misconduct by bishops, deacons, and priests against adult victims.
Full text of the letter follows:
My siblings in faith in the Diocese of Los Angeles:
Greetings in the name of our Lord Jesus Christ.
The canons of The Episcopal Church (Canon IV. 1) say that "the Church and each Diocese shall support their members in their life in Christ and seek to resolve conflicts by promoting healing, repentance, forgiveness, restitution, justice, amendment of life and reconciliation among all who are involved or affected."
To help make sure that the Church keeps its promise especially to those the Church itself has injured, the 79th General Convention, which met this summer in Austin, passed Resolution DO34. The measure suspends the statute of limitations on reporting acts of sexual misconduct by bishops, deacons, and priests against adult victims.
This means that if you were the victim of sexual misconduct by a clergyperson, no matter how long ago it occurred, you may lodge a complaint. The three-year suspension window opened on January 1, 2019. It closes on December 31, 2021, after which the statue of limitations will again be in effect.
The leaders of our Church took this step in response to the #metoo movement, which also inspired them to organize a service of truth-telling and accountability during convention. From these and other experiences, as our culture wakes up to the reality of its legacies of power imbalances and abuses of power, we have learned that victims often keep their secrets for years, even lifetimes.
If something happened to you, and you felt you wouldn't be heard or it wouldn't be safe to speak, the Holy Spirit has opened a door. As your bishop, I wholeheartedly support this measure, pray for those whose voices it may at last enable to be heard, and promise to do all I can to make sure that allegations are taken seriously and investigated thoroughly.
In the Diocese of Los Angeles, we have three individuals who serve as intake officers under Title IV. They are the Rev. Canon Joanna Satorius (jsatorius@ladiocese.org), the Rev. Thomas Discavage (tdiscavage@ladiocese.org), and the Rev. Michele Racusin (mracusin@ladiocese.org). All three of our colleagues may be reached by email or by calling our offices at 213.482.2040. If for any reason you would prefer to speak to someone else, you can also make a report to your own priest or to me as your bishop. We will do all in our power to keep your communication confidential during the investigation.
I commend to your attention another letter on this topic, by our Presiding Bishop Michael Curry and the President of the House of Deputies Gay Clark Jennings. Click here to read this letter on the diocesan website. You will find the canons of The Episcopal Church, including the Title IV disciplinary canon, here.
Let us pray together for God's healing for anyone harmed by clergy misconduct and for God's blessing on The Episcopal Church as we live ever deeper into our kingdom work of justice and peace.
Yours in Christ's love,
The Rt. Rev. John Harvey Taylor
Bishop of Los Angeles
If you or someone you know has been a victim of abuse please contact the clergy with whom you feel most comfortable or the Diocese itself. We want all of God's children to be able to worship, learn and celebrate safely.
SHROVE PANCAKES
Thank you the members of Troop 360 who helped create a fantastic Shrove dinner!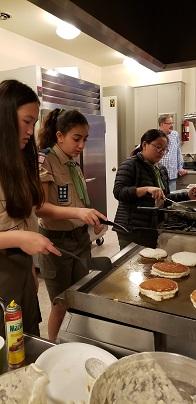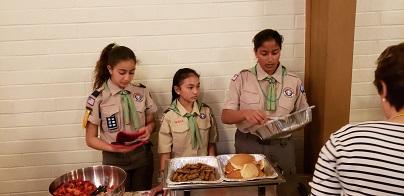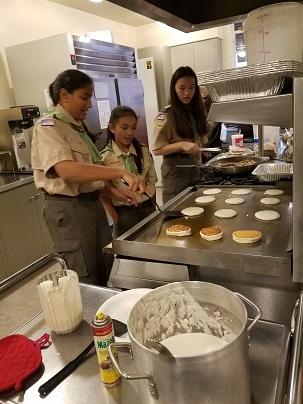 GOAT YOGA OPPORTUNITY
What's better than yoga with goats? Yoga with BABY GOATS!
Spanky and Pippen's baby siblings, Gizmo and Doc Brown
are coming to Greenheart Yoga in San Marino
Sunday, April 14 at 2 pm and 4 pm.
More information will be available on their website
https://thegreenheartlife.com/
~ Upcoming Events ~
Sunday, March 17
Team 3 Acolyting
Family Worship
10 am | Chapel
Sunday School
10:30 am | Sunday School Classrooms
SPRING BREAK EVENTS
If you're not in school this week, join us for tons of fun!
Please RSVP to Heather as soon as possible.
Monday, March 18
Dave & Busters
Tuesday, March 19
Adventureplex
11 am
Rock wall and general admission: $20 (ages 5+)
Ropes course only: $20 (ages 8+)
Ropes course and general admission: $32 (ages 8+)
Rock wall, ropes course and general admission: $40 (ages 8+)
Groupons are available
Includes two hours of rock wall use, equipment rental and trained staff supervision. All climbers need to have a liability waiver signed by a parent or guardian. Reservations required at least 24 hours in advance to guarantee space. Drop-ins will be accommodated when space is available.
Wednesday, March 20
Matinee of Wonderpark
Thursday, March 21
Dogs! A Science Tail Exhibit and Imax
1 pm | California Science Center
Imax at 3:30 pm
They're cuddly. They're smart. We treat them like part of the family. From lovable companions to loyal protectors, dogs live and work alongside us. They can rescue us from peril, sniff out danger, or provide help to people in need. Through engaging and fun hands-on exhibits, explore the science behind the bond between humans and dogs. Find out how humans and dogs are both wired for social connection, which made it possible for dogs to nuzzle their way into human society and into our hearts. Discover dogs' amazing senses and grab the chance to see, hear, smell, and act like a dog. And don't miss the live demonstrations of work and rescue dogs in action!
Superpower Dogs 3D
Trailer can be viewed here
Join an immersive IMAX adventure to experience the life-saving superpowers and extraordinary bravery of some of the world's most amazing dogs.
In this inspiring true story, our best friends are also real-life superheroes. Journey around the globe to meet remarkable dogs who save lives and discover the powerful bond they share with their human partners. Follow 'Halo', a rookie puppy training to join one of the most elite disaster response teams in America. Meet 'Henry', an avalanche rescue expert in the Canadian Rockies, 'Reef', a Newfoundland lifeguard with the Italian coastguard, 'Ricochet', a Californian surf legend helping people with special needs, and the Bloodhound brothers, 'Tipper and Tony', who are leading the fight to save endangered species in Africa. As we discover the incredible abilities of dogs and the astonishing science behind their superpowers, we'll never look at our best friends the same way again!
Friday, March 22
Hike to Eaton Canyon Falls
Saturday, March 23
Disney's Alice in Wonderland
6:30 p.m.-8:30 p.m. at Rothenberg Hall Huntington Gardens
$15 per person
Celebrate your "very merry un-birthday" at a special screening of the 1951 Disney animated classic, Alice in Wonderland. Come dressed in your Mad Hatter best; learn about Mary Blair, the Disney concept artist who designed Alice's colorful world; and make your own Alice-inspired art before the movie. Suitable for all ages. Children 5 and under are free. Movie screening begins at 7:30 p.m.
~
Sunday, March 24
Team 4 Acolyting
Family Worship
10 am | Chapel
Sunday School
10:30 am | Sunday School Classrooms
~
Sunday, March 31
Family Worship
10 am | Chapel
Sunday School
10:30 am | Sunday School Classrooms
Please feel free to contact Heather if you have questions.