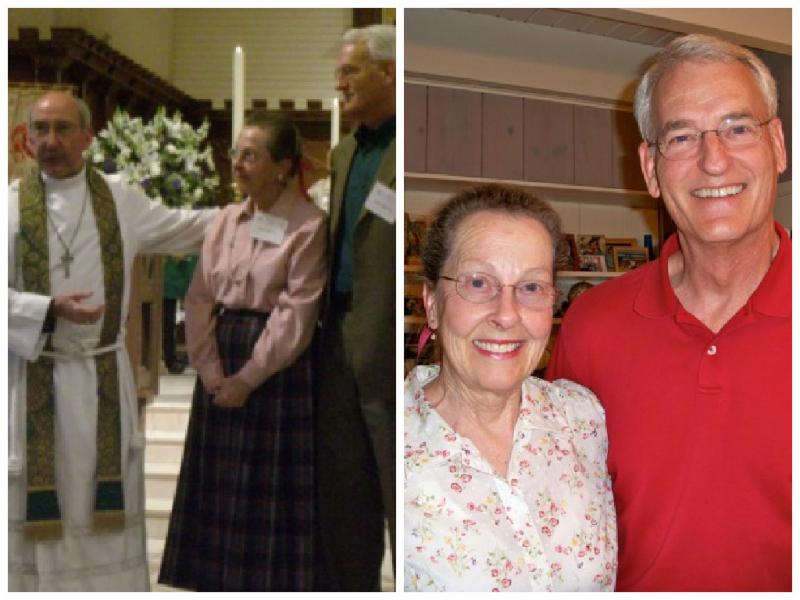 The Rector presented the Rector's Cross to Julie & John Quinn on Annual Meeting Sunday February 8th. The Quinns have St. Paul's gift of encouragement, and engage Parish Life fulsomely.
Julie leads the English Conversation and Culture Class for the weekly Japanese group at St. Edmund's, and is responsible for our Monthly Second Sunday Parish Breakfasts. Her hearth is always (figuratively, here where we haven't needed fires for some while!) kindled and her door open for hospitality and lively kitchen fare. In the larger community, Julie serves as editor of the Huntington Library "Tattler," for Library volunteers, and the Docents Weekly for British and American Art.
John leads the Youth Advocacy Team and also, together with Julie, the twice monthly Parenting Class. He conspires with the Rector and the Youth Leaders in all matters pertaining to the furtherance of ministry with and to Youth at St. Edmund's. In the community John serves as Chair to the Old Mill Foundation and to the Good Hope Medical Foundation, and is participant and presenter at the Economic Round Table.
Julie and John rejoice in their children Willie (Laurie), Charlie (Dana) and Katie, and in their 8 grandchildren. They are a terrific blessing to their family, their community, and to St. Edmund's Parish!