This coming Sunday we offer Leave-Taking Prayers for Canon Smythe+ and for Sylvia Smythe. While Sylvia will remain with us through Christmas to lead Bell Choir and Vestry, Sylvia and Colville are a unitary being, and so we will pray for them together.
Come bid formal adieu to one of the fine priests of the Episcopal Church, who has served us so well and faithfully these eleven years past.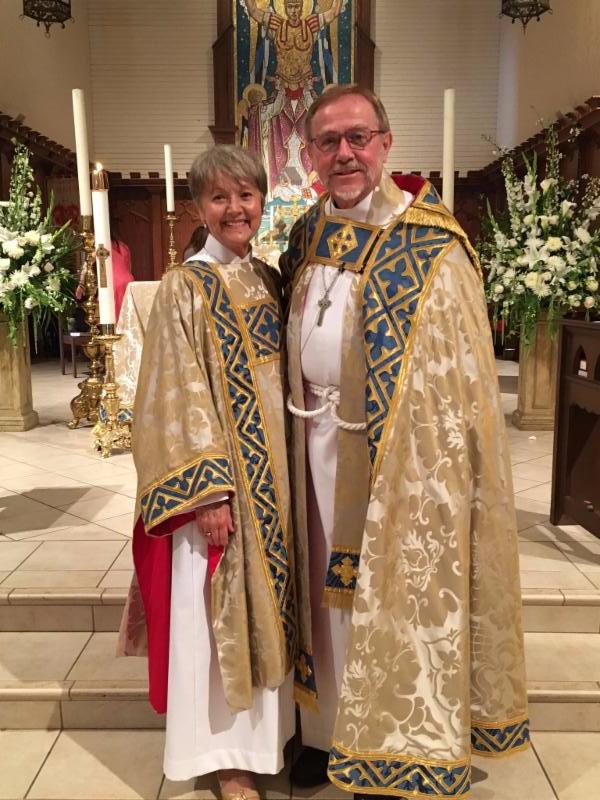 Our Bishop Suffragan Diane Jardine Bruce will be with us to preside at the Confirmation or Reception of eleven people into the Episcopal Church as they embrace the duties of serving Christ in this branch of the One Holy Catholic and Apostolic Church.
Sheree and Brian Tyler are wonderfully sponsoring a Taco Feast following our liturgy this coming Sunday!
Faithfully,
GFW+
Word comes of the death of James Orendorff, husband of Jean Parks Orendorff.
Check out the excellent work of the Episcopal Church's Young Adult Service Corp
HERE, and the Young Adult Service Corp Facebook page HERE
The Lessons for Pentecost Twenty-One (Track Two), October 29, 2017 HERE
Michelle Harrington shares a hilarious New Yorker piece (a series of fictional e-mail exchanges) on what happens when a teacher tries to introduce a Dia de Los Muertos Altar into her classroom…just for fun HERE!
GLOBAL EPISCOPAL MISSIONARY NETWORK HERE
Prayers continue for Cheryl and Gary Mendoza, both recovering from serious surgeries in Orlando, Florida.
CONFIRMATION, SEND-OFF, AND TACO TIME!
Please join us for a luncheon on Sunday, October 29th as celebrate those Confirmed and Received into the Episcopal Church, as we gather for the Visitation of our Bishop Suffragan Diane Bruce…and as we say goodbye to one of the Church's quite amazing priest's (Canon Smythe).
Sheree and Brian Tyler are generously providing a Taco Truck celebration post-liturgy October 29th!
Taking stock of Thurgood Marshall's Civil Rights Legacy HERE
On and off "fasting" helps fight obesity HERE
The Norton Simon Museum offers some wonderful Halloween themed films…and a series "On Art and Mourning" HERE
Read "The Lead" from Episcopal Café HERE
The recent edition of Episcopal News from the Diocese of L.A. may be found HERE, and articles from the national Episcopal News Service
HERE