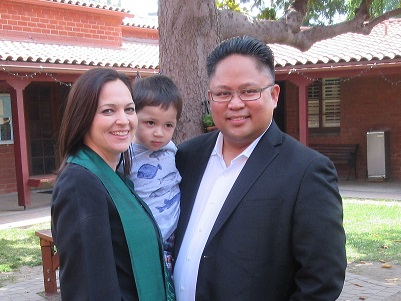 The Reverend Heather Blackstone, a minister in the United Church of Christ, will join the staff of St. Edmund's as full-time Director of Youth Ministries this July, with responsibility for developing all dimensions of our youth programs.
Heather is concluding her ministry as Associate Pastor at Burbank United Methodist Church, and will continue in the Religious and Spiritual Life Office at Occidental College.
Heather was born and raised in Pownal, Maine. She attended Gordon College in Wenham, Massachusetts where she majored in Biblical and Theological Studies with a concentration in Jewish Studies and Old Testament Theology. During her time in college she was able to spend a semester studying at Jerusalem University College in Jerusalem, Israel. She also served in Calcutta, India working with Mother Teresa's Missionaries of Charity at Kalighat Home for the Dying.
Upon completion of her Bachelors, Heather moved to Pasadena, California to attend Fuller Theological Seminary where she obtained her Masters of Divinity, followed by ordination in the United Church of Christ. She served as the Assistant Minister at Glendale First United Methodist Church as well as the Chaplain for the Glendale Police Department. It was during this time that she met and married her husband, Antonio Bartolome. After Glendale Methodist, Heather joined the Office for Religious and Spiritual Life at Occidental College where she continues to offer interfaith programming for the various religious groups on campus and leads the Progressive Christians Uniting. In 2010 she was invited to join the staff at Burbank First United Methodist Church where she was appointed to the position of Associate Pastor. The following year she and Antonio welcomed their son Alipio. Antonio is the Senior Advisor for the Thornton School of Music as well as a violinist. As a family they love traveling, going to museums and attending concerts near their home in Pasadena.
I offer hearty thanks to our Search Committee (Sylvia Smythe; Chair, John Miller, John Quinn, Gale Rolfe, Nathaniel Rolfe and Carolyn Seitz). GFW+