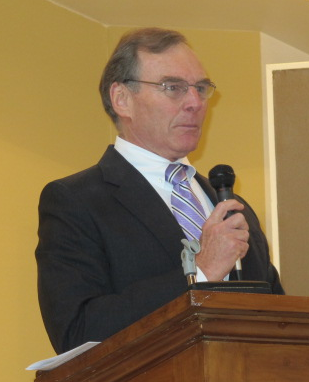 The Los Angeles County Bar Association's litigation section is awarding Alan Steinbracher with the Jim Robie Professionalism and Civility Award. Alan served as president of the Los Angeles County Bar Association from 2010 – 2011 and is a representative to the Ninth Circuit Judicial conference. Previously Chair of the litigation department of Paul Hastins, Alan began his own firm, Steinbrecher & Span, a few years back, with offices in Los Angeles, Washington D.C. and Houston.
While president of the Bar Association, Alan helped found the Armed Forces Committee, providing pro bono legal assistance to veterans and active duty personnel.
Alan steers St. Edmund's as Senior Warden. He and Millie do St. Edmund's proud as they contribute in numerous ways to the depth of community life in San Marino, Pasadena, and greater Los Angeles. A Howl of the Wolf to the Steinbrechers!