Allison Dietrich hit the ball out of the park for us this past Saturday at the St. Edmund's Street Fair, one in our series of events celebrating our 75th Anniversary! Shawna Phelan and Debra Spaulding came alongside Allison, together with a bevy of engaged volunteers, to create a quite delightful Saturday afternoon and evening for folk of all ages! Photos and link below.
The Very Reverend Dr. Francis Bridger, Dean of the Diocese of Brechin in the Scottish Episcopal Church (from whom the Episcopal Church received its first bishop and prayer book in the 18th Century…not Francis, but Scotland) will lecture at St. Edmund's Tuesday evening on the future of Anglicanism.
Blessing of the Animals in honor of St. Francis (not Pope Francis, though he's okay too) will be celebrated on the Sunday nearest the Feast of St. Francis (October 4th) on October 2nd (see below). The clergy will also be blessing St. Edmund's Nursery School animals (live and stuffed…taxidermy not encouraged) that Monday and Tuesday at 9am (October 3rd and 4th).
Your Rector will be at a Cristosal Executive Committee meeting in Washington D.C. this coming Tuesday through Sunday. See an article in the September 16th issue of the San Marino Tribune to learn more of what Cristosal is up to at the U.N. and elsewhere these days.
The Mothers In Transition group is starting back up on Wed, Sept 21, in the library. Social hour at 6:30, group starts at 7.
We have exactly 1 remaining opening at St. Edmund's Nursery School for a Pre-Kindergarten child who will turn 5 by December 2nd of this year. Contact the Parish or School Office for information!
Faithfully,
GFW+
Register now for a Saturday Workshop, 9am – 2pm at Cathedral Center "Jesus Among The Many Mosques" sponsored by the Program Group On Global Partnership HERE. 50 free tickets remaining.
The Lessons for (Track Two) Pentecost Nineteen, September 25th HERE
As promised in last Sunday's sermon, the GLOBAL RICH LIST HERE
Oldest handwritten documents in the UK unearthed at London dig HERE (courtesy of Brother Michael)
Missouri Republican Senator John Danforth, an Episcopal Priest, authors a book summoning the Episcopal Church to the healing of America HERE
Read "The Lead" from Episcopal Café HERE
The recent edition of Episcopal News from the Diocese of L.A. may be found HERE, and articles from the national Episcopal News Service HERE
---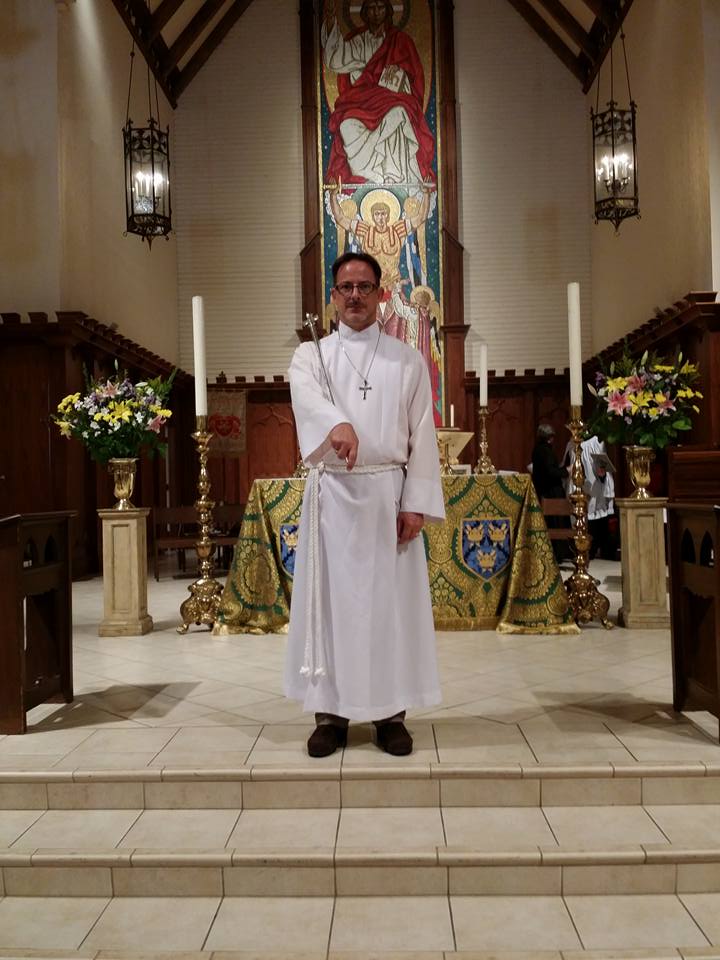 Verger Tony Faught "in action" with his Verger's Wand last Sunday at the Blessing of the Naming Stand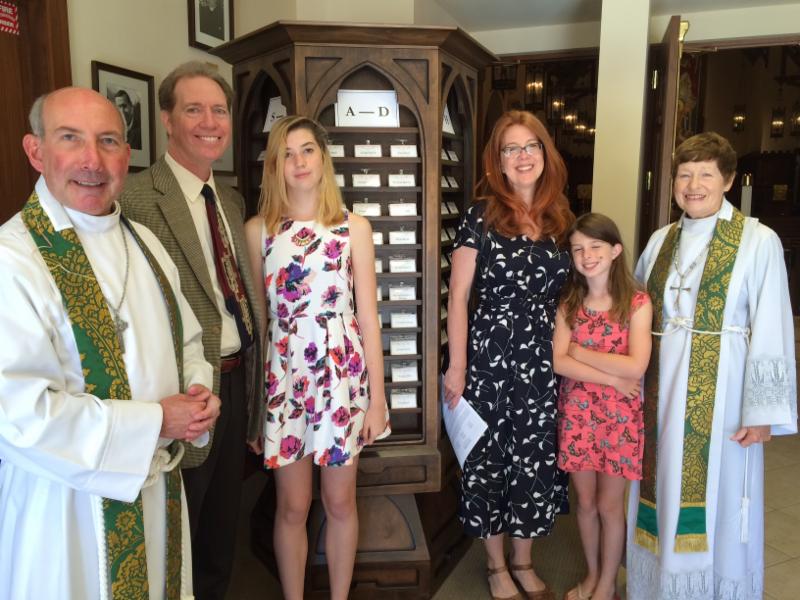 Naming Stand Designer and Craftsman Robert Thompson III by the new Naming Stand with family and clergy