Personal prayer strengthens our faith, and kindles hope. It's the life blood of our spiritual life.
At St. Edmund's, the 30-day 'Closer Walk' prayer experience is based on a daily 30-minute morning discipline of meditation, intentional prayer and honest reflection. When participants meet each week, their conversation is with God rather than about God. More than twenty parishioners have already participated.
The next 30-day prayer session is scheduled to begin on Wednesday, June 21, in the Cowens Room, 7:00 to 8:30 pm.
Contact Mother Judy (motherjudy@aol.com) or Father Colville (cssmythe@charter.net) with questions, and to express your interest.
Father Colville Smythe +
---
44th Annual Pasadena Mayor's Interfaith Prayer Breakfast
Last Thursday "Friends in Deed" was honored during the Mayor's Prayer Breakfast at the
Pasadena Convention Center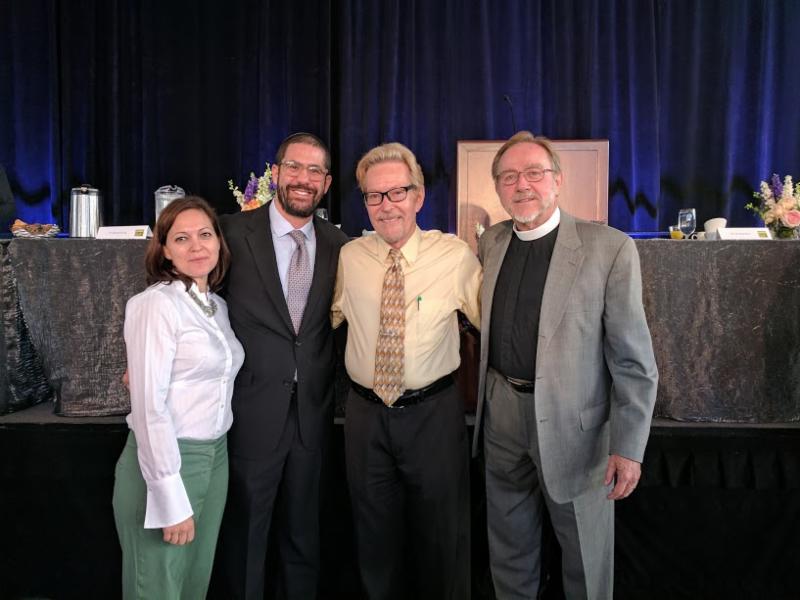 Pictured left to right:
Rev. Heather Blackstone, Rabbi Josh Grater,
Michael Way, Father Colville Smythe
Rabbi Joshua Grater, Executive Director
of Friends in Deed will be preaching at
St. Edmund's this fall.
Hear our service from Easter.
The lessons appointed for May 14, 2017, the Fifth Sunday of Easter, are here.
Read "The Lead" from Episcopal Cafe.
The recent edition of Episcopal News from the Diocese of L.A..
Articles from the national Episcopal News Service.