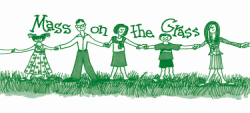 September 30th
10 am
The Angeloff's
2930 E. California Blvd.
Pasadena 91107
Please join us at the beautiful home of Dann and JoJeanne Angeloff for our annual Mass on the Grass. Following our service we will have a picnic, tennis and swimming. A picnic will follow the service, please rsvp to the church office, office@saintedmunds.org if you plan to attend. We request a donation of $10 for adults and $5 for children to cover the cost of food. Please know everyone is wanted and welcome, donations are waived for anyone for whom this would be prohibitive.
8 am SERVICE
St. Edmund's Choir will sing at the 8 AM service in the chapel on Mass on the Grass Sunday, September 30, 2018. It's been at least 30 years since a choir has sung in the chapel, so if you'd like to experience how St. Edmund's used to be before our beautiful main church was built, please plan on attending the 8 AM service.