PARISH PROFILE
April 4th, 2019
The Parish Profile has been completed and may be viewed by clicking the links below.
SEARCH COMMITTEE QUESTIONS AND ANSWERS
March 13, 2019
There will be a meeting after each service on March 17 for anyone interested in possibly serving on the Search Committee, or who would simply like to learn more about it and the search process. The meetings will be held in the Chapel after the 8:00am service, and in the Sanctuary after the 10:00 service. Link to form
SEARCH COMMITTEE FORMATION
March 10, 2019
The process for forming a Search Committee has begun! Our Parish Profile has been filed with the LA Diocese and with the expectation that the Diocese will approve our Parish Profile by April 1, we are now accepting expressions of interest to serve on the Search Committee from all parishioners. Please see the Search Committee Indication of Interest Form. We welcome anyone who would like to be considered; please encourage any parishioner you think would be a good Committee member to consider participation.
Participation on the Search Committee will require a substantial time commitment during the interview process, which will take place over the next several months. There is also the possibility of some travel to hear prospective rectors preach in their current parishes.
The Transition Committee expects to name five or six parishioners to the Search Committee. If you are interested, please fill out the Search Committee Indication of Interest Form, which can be found in the narthex of the sanctuary or through this link. Please submit the form by March 25 to a member of the Transition Committee, leave it in the Church office or email it to transition@saintedmunds.org.
NOTE ON PARISH PROFILE PROGRESS
January 14, 2019
The Profile Committee, consisting of Laureen Chang, Kimberly Schugart, Cynthia and Larry Shulte, Bill Youngblood and Michael Harrigian, is working on the parish profile. The goal is to have a draft profile approved by the Vestry ready to submit it to the Diocese for approval in time to publish it for prospective candidates by April 1st. The profile will be posted on the parish website at that time as well.
The profile is expected to be approximately 25-30 pages long, and will include written information and photographs about the parish, the community and the Diocese. The committee is working closely with Fr. Bill to identify those aspects of St. Edmund's that we might take for granted but would be highly attractive to many clergy – and, thankfully, there are many! The profile authors are developing stories highlighting specific recent activities or accomplishments that speak to the many strengths upon which the right candidates can build. Fr. Bill has also been clear that we need to be open in the profile about any challenges that a new rector may face so that we attract candidates who have gifts and experience suited to meet those challenges.
The parish website will be updated in the next three months to align with and supplement the information contained in the profile, since we realize that most candidates will investigate us further by visiting the saintedmunds.org website as well as on social media. The website design and content therefore needs to be consistent with what we present in the profile. The website will also be used to present more detailed information about our parish facilities, staff, ministries and congregation than what can be included in the profile.
There were questions raised at the transition update meetings on January 13th about when a search committee will be formed. Since that committee can't begin its work until the parish profile and related materials are approved by the Diocese, therefore, the search committee will be formed about the time the profile is submitted to the Diocese – sometime in March. We will announce more about the process of forming the search committee closer to that time.
Survey Results
November 30, 2018
Highlight results from the parish survey were presented after both services on November 4. As
promised at those presentations, the complete presentation has been distributed by email to all parishioners and is being uploaded to our website, including a lengthy appendix providing results from every question in the survey. We have also included a separate document containing all written comments received, organized by section of the questionnaire (where appropriate, the question number related to the comment is also provided). Lastly, because the survey questions needed to be abbreviated for presentation purposes and in the appendix, a blank survey form is available from the church office should you wish to see the full text of the question referenced in the results.
We indicated in the presentation that we saw consistent results between how respondents rated the
importance of St. Edmund's ministries and the importance placed on specific capabilities of our next
rector. (See Page 7 of the presentation for results on the question of key characteristics of our next
rector.) For example, crisis ministry (pastoral care in times of crisis) was rated as an important ministry
of St. Edmund's and was also rated as one of the top key characteristics of the next rector.
While respondents were generally positive about the ministries of St. Edmund's, as indicated in the
current level of achievement, respondents' comments did show a breadth of perspectives in certain
areas – suggesting that respondents were seeking ways to adapt and build on the strengths of St.
Edmund's in order to reach a broader community and energize their own experience as well. Specific
areas that would appear to warrant further discussion now and with our next rector include: a)
"contemporary" worship and music – both the meaning of this term and, if so desired, how it might be
implemented, b) broader engagement in the community, including outreach, c) new ways our children
and youth programs might serve more needs of young families, and d) the path that sermons should
take when dealing with the intersection of "contemporary issues", politics, and applying scripture in our
daily lives.
If one or more of these areas is of particular interest to you and you would like to participate
in a future group discussion to explore it further, please let the Transition Committee know at transition@saintedmunds.org.
Thank you,
Survey Results Team — Mike Harrigian, Kimberly Schugart, Kathy Gross
Welcome to Fr. Doggett
August 1, 2018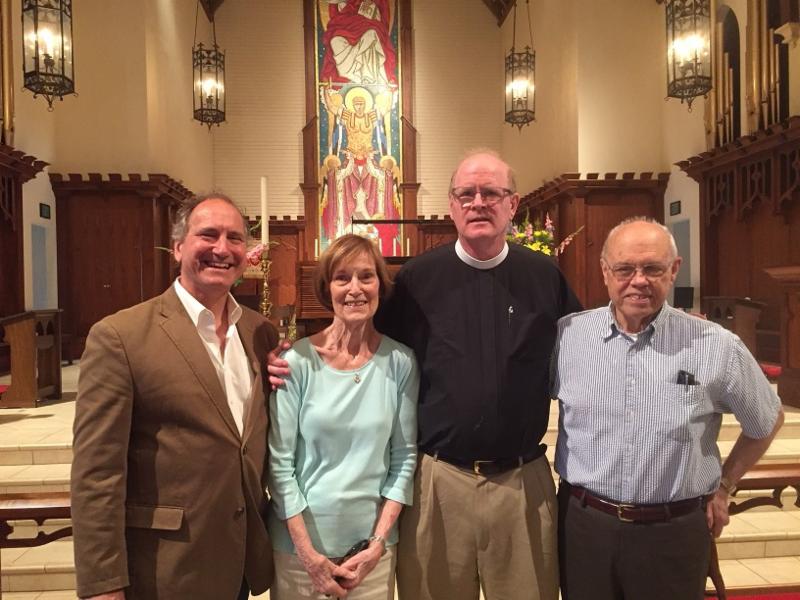 Please join the Transition Committee in welcoming the Rev. Dr. William J. Doggett as our interim rector during the remainder of our transition period. "Father Bill" is from the Bay Area originally but spent most of his ministry in the Washington D.C. area before moving to Rancho Mirage last summer.
Father Bill was ordained at Grace Cathedral, San Francisco, in 1996 and served in Redwood City, San Francisco and for the Diocese of California until moving to Washington, D.C. in 1999. While on the East Coast he served as Associate Rector at Christ Church in that city, as Chaplain at the National Cathedral and then as interim rectors at two parishes in Maryland, among a number of other assignments.
He graduated from U.C. Davis with a Bachelor of Arts degree in Music in 1978 and subsequently earned a Masters of Divinity from The Church Divinity School of the Pacific in 1995 and a Ph.D. in Liturgical Studies from The Graduate Theological Union in 2005. He has taught at Virginia Theological Seminary, Wesley Theological Seminary and San Francisco Theological Seminary.
Before being ordained Father Bill was involved in musical theater, including as a musical director and costumes and set design. He has published numerous books and contributed to others.
He will begin full-time work as St. Edmund's in late July or early August and will assist us in our search for a new rector. Please welcome Father Bill to our parish.
Farewell Ceremony
April 30, 2018
This slideshow requires JavaScript.
The parish bade a fond farewell to its beloved rector, the Reverend Canon George F. Woodward III, during and after the 10:00 a.m. service on Sunday, April 29th. During the service the Reverend Canon Colville Smythe, the former assisting rector, gave a warm and lighthearted sermon, followed by the formal leave-taking ceremony. Gifts from various parish ministries such as the Nursery School, Sunday School and Youth Program and Acolytes were then presented to Father George. Lunch on the Close followed the service, during which 235 people enjoyed the beautiful weather and being able to share time with Father George. After lunch everyone returned to the church, where tributes and additional gifts, including a two-volume scrapbook of his time at St. Edmund's, with pages submitted by many of the parish families, and a beautiful photo album, were given to him. Father George was then "roasted" and serenaded with a song of love to him and St. Edmund's to the tune of the Beatles' "Yellow Submarine." The ceremony ended with his final reflections on his time here and his benediction. After twenty-three years of devotion to and love for St. Edmund's, Father George has now formally taken his leave from the parish, which wishes him all the best in the years ahead.
Phases of Transition
April 18, 2018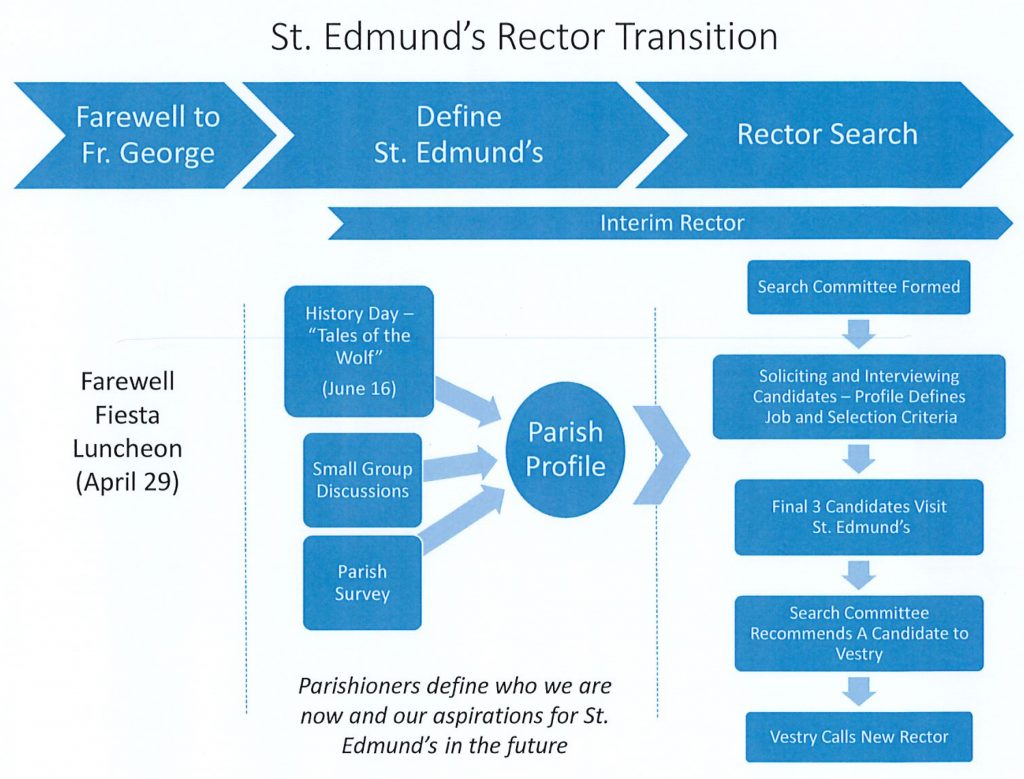 It is meant to depict three phases in the transition to a new rector. The first is the time during which we bid Father George our fond farewell and celebrate his tenure with us. That is the period we are in now, and it ends with the last service he officiates at St. Edmund's and the farewell luncheon immediately following it on April 29th.
The second phase is a time of reflection and introspection, designed to include the entire parish community in defining how we see our parish past, present and future. This phase is critical for determining the qualities we most want in our next rector, and what we tell that candidate about us. There are three major parts of this process – a "History Day" to which the entire parish is invited on June 16th (a Saturday) to reflect on the history of St. Edmund's and share our thoughts on what it means to us and what we want it to be in the future; a series of small group discussions designed to continue the further defining of who we are and where we are going and a written parish survey that will be sent to all parishioners. There is no fixed date for the end of this second phase, but the target is Fourth Quarter of 2018.
The third phase is the search phase, during which the Search Committee is formed and conducts its work, as identified in the visual. The third phase has no timeline, and could last an additional six to eighteen months.
The Second Phase Of The Transition
We have now entered the second of the three phases of the transition to a new rector. During the first phase we expressed our gratitude to Father George for his faithful service to our parish and bade him a loving farewell, culminating in the service, lunch and ceremony on April 29th. The second phase will give us the time for personal and communal introspection about what we consider to be the most important elements of St. Edmund's now and those ways in which we hope to strengthen it in the future so that it cannot only continue, but increase, its importance to us individually, as a congregation and in the community.
The second phase is extremely important because the decisions we reach together about the challenges we face and the aspirations we have for our parish will significantly define the profile of the rector the Search Committee will seek. The entire parish will gather to share our thoughts about our past and future at the History Day on June 16th, a facilitated event which will help recall our parish experience in order to identify those ministries we want to emphasize with our new rector. We will continue the process of further defining our aspirations, and therefore the characteristics of that person, through small group meetings during the summer and the parish survey which will be distributed later in the summer.
Conversations with potential interim candidates and a Vestry decision about an interim candidate are expected to be finalized during this phase.
Note from the Senior Warden on Our Rector's Transition
March 13, 2018
This last Tuesday, pitchers and catchers reported to spring training! Throughout Arizona and Florida, every major league baseball team began working full time on a process that will end months from now with a new world champion. For now, a quiet process has begun as each team works on fundamentals: developing player skills, character, and making tough roster decisions before the season begins. I imagine, inside the teams, the work is hard and players' lives are far from idyllic, as cuts and trades come day after day. For fans though, blessed to watch a little removed, it is just a glorious spring, full of fresh expectations, green grass, sunshine, and limitless opportunities.
We are entering a quiet period in our rector transition process. Shortly after Fr. George announced his plans to leave St. Edmund's after 23 successful years, we had a warm meeting with Bishop Taylor and were assured of his complete support for our parish throughout the transition. The Vestry then met with the Rev. Canon Joanna Satorius from the Diocese Office for Clergy Formation and Transitional Ministries. Canon Satorius will be assisting us in the rector search process, and she spent a full day describing the transition process recommended by the Diocese.
We are beginning this process immediately. Gail Rolfe has agreed to lead a newly formed Transition Committee as its Chair; Mike Harrigian, serving as a liaison to the Vestry; Amy Hulick, Debra Spaulding and Alan Steinbrecher also as members.
This committee is intended to provide continuity and guidance throughout the rector transition process. The calling of a new rector is going to take an extended period of time, and the Vestry has not put a timetable or expected end date on the process. Canon Satorius advised us that the most thoughtful, wise approaches to the rector calling require much information gathering, team building, and reflection on the character of our parish.
We expect to begin arranging small group discussions to address this step soon. Additional parishioners with time and interest will need to be involved throughout, too. So, if you can volunteer time, your help will be welcomed. If you can only cheer or boo, we will welcome that too! Your feedback as to what we are doing well, what we need to do differently, ministries that are currently important to you, and what is not now adequately provided will need to serve as the basis for a coming St. Edmund's profile that will serve as a foundation for our search.
We do need to ask for your immediate help. Continue to support St. Edmund's, mostly with your attendance at services, but as you can, in the small groups offered through Lent. This will be a time to especially appreciate the remaining sermons and homilies from Fr. George! Please stay current on your pledges, and if possible, prepay before summer.
But most importantly, remember us in your prayers:
For Fr. George, our friend and Rector for 23 years, as he goes through transition too, deserving of our full and complete support, and with thanks for his service;
For St. Edmund's, as we work through the process of our new rector calling; and,
For our Vestry and others leading this process, they will need wisdom, grace and all the support you can give.
We are just beginning, and to be sure, there are challenges ahead. But for now, let's enjoy a glorious spring.