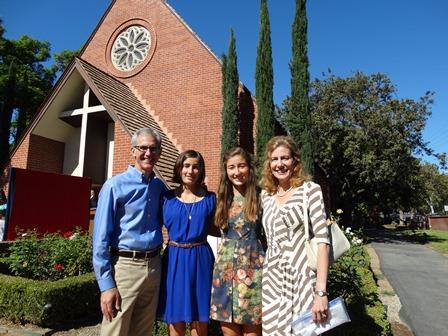 Karen and I were visiting our daughter Fiona recently for parent's weekend at her college in the Boston area, and while there we attended the local St. Andrew's Episcopal parish which happened to be kicking off its annual stewardship month. The Vestry stewardship chair gave a brief talk during the service outlining goals and past achievements, then concluded with the exhortation to 1) Pledge, 2) Pledge MORE, and 3) Pledge on time.
As a member of the Vestry here at St. Edmund's, it was a reminder that we are in no way unique in our need to exhort our parishioners to be good stewards. Sitting in the unfamiliar pews of St. Andrew's, it was also a time to reflect on how important St. Edmund's is to our family.
The Harrigian family has been active at St. Edmund's since we arrived in 2003. Fiona and Olivia, now 18 year olds, grew up in the church, participating in Sunday School, youth choir, Christmas pageants, youth groups, acolytes, and confirmation class. Beyond the formal activities at St. Edmund's and the instruction provided by clergy and youth leaders, the girls have been blessed to have wonderful interactions with caring St. Edmund's parishioners who expanded their experiences and offered valuable guidance. Karen and I look forward to thought provoking sermons and wonderful music each Sunday. Through volunteering, small group discussions, and social events, we've also been blessed to have made many of our best friends here at St. Edmund's.
St. Edmund's is important to our family for many reasons, and we choose to support it with our time, talents and treasure. St. Edmund's has had the support of many stewards throughout its 75 year history, and we are committed to continuing that tradition to ensure that the church is strong in its next 75 years.
Michael Harrigian