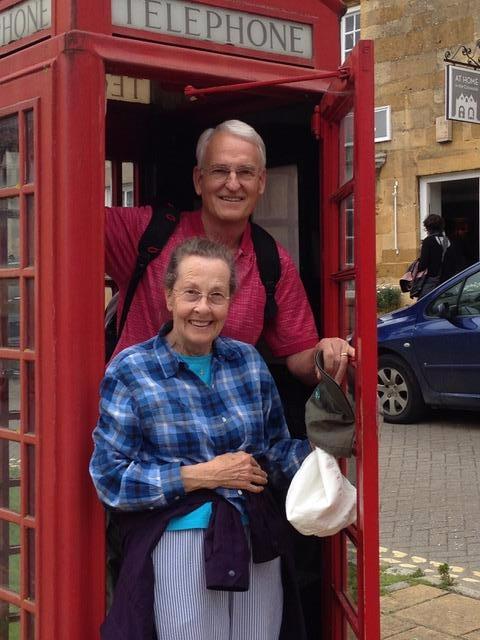 Julie and I are here at St. Edmund's because this is a community we love. It is a
community in which we can worship God and share ideas. It is a place where we find others who share our values, where we can learn from others and sometimes even teach others. The community of St. Edmund's is a very important part of our lives.
And all of us know that to create and maintain a community takes a lot of effort, and it
requires the time and the treasures of its members in order to flourish.
Julie and I are surrounded by members of this community who inspire us, nurture us,
and keep us coming back. When we see others working for this community and supporting it financially, we feel encouraged to do our best to participate in as many ways as we can and to support the parish financially as we are able.
So for us, the community of St. Edmund's is a worthy recipient of our stewardship, and we joyfully make our pledge each year in support of this parish.
Now, I can't resist giving you a bit of a finance lecture from your friendly and retired banker:
The total of what we all pledge to St. Edmund's is essentially the amount of money the parish has to spend for the coming year. The more we pledge, the healthier the parish becomes and the more we can accomplish together. So making a pledge is a vital step in supporting this church and belonging to this community, and if you are able to increase your pledge, it will help even more.
In addition to making an increased pledge, we are asking every parishioner to consider making an outright gift to the Next 75 Initiative.
And finally, in addition to a pledge and an outright gift, we are encouraging everyone to join the Legacy Society by making a provision for St. Edmund's in your estate plans.
Julie and I love this parish community of St. Edmund's because of people like you. And
together with you, we want to help it continue to grow and flourish in the coming years.
Formal ingathering and blessing of the Stewardship forms occurs at 8am and 10am the Feast of St. Edmund, November 20th!