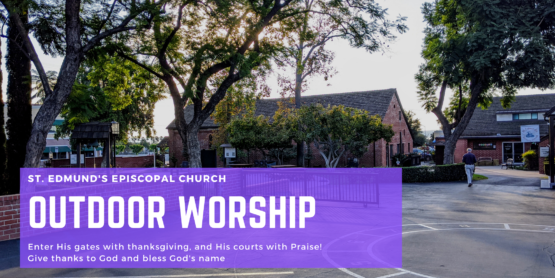 Dear Friends in Christ,
It's hard to believe that after 6 months of no "in-person" worship, we are finally able to offer an outdoor worship service! After careful planning, we have put together protocols and procedures based on State and local guidelines as well as Diocesan guidelines and directives. While some of the procedures outlined on our event page may seem cumbersome, the health and well-being of our community must take precedence.
While we have planned carefully, remember it is up to each person and your level of comfortability as to whether or not you should attend—please continue to adhere to Health Department recommendations about your own medical needs and concerns in relation to gatherings during this pandemic. We will keep our online services going on YouTube and Facebook every Sunday as well for those who don't feel comfortable returning just yet. Please take a moment to read through the procedures well in advance. If you have any questions or concerns please don't hesitate to contact the office. I look forward to meeting some of you once again in person—albeit in a socially distanced way!
Blessings,
Jenifer+
---
How to Register to Attend a Service
St. Edmund's will be using free tickets provided through Eventbrite to help manage attendance and the collection of contact information from those attending our services. We strongly encourage all who plan on attending to register ahead of time. There will be a limited number of unreserved seats available for unregistered attendees.
Take a few minutes to familiarize yourself with our safety protocols, by reading the information on the event page and watching the "What to expect" video.
When you are ready, click "Select a Date."
Find the date of the service you are planning to attend, and then click "Tickets."
Select the number of tickets.
On the next screen, you will be asked for contact information for each attendee. The information you provide will only be used for contact tracing, should it become necessary. After you have filled out the information, click "Register."
You will now be taken to the confirmation screen, and your tickets will be delivered to your email.
We thank you for your forbearance with these temporary changes to the way we gather, as we work to protect the safety of our community.
We thank you for your forbearance with these temporary changes to the way we gather, as we work to protect the safety of our community.
BASIC SAFETY
Please stay home if you or anyone with whom you live is experiencing symptoms of COVID-19; if you have recently traveled; if you believe you may have been recently exposed to the coronavirus; or if you are just not sure.
Maintain six feet of distance at all times from anyone with whom you do not currently live.
Wear a good quality mask that covers both nose and mouth at all times (required for all over the age of two years). Avoid touching your face or the outside of your mask. Cough and sneeze into your elbow.
Wash your hands thoroughly with soap and water for twenty seconds each time. Make frequent use of hand sanitizer.
SUNDAY CHECK-IN
There will be one outdoor service on the parking lot/playground area at 9am each Sunday starting September 13th thru the end of October (Weather permitting).
Please make reservations here on eventbrite. This will give us an idea of how many chairs to put out each Sunday, and will give us required contact-tracing info.
Parking will be limited to the North lot or on the street. We ask that those who are able to park farther away to please do so—this will enable us to reserve more handicap spaces.
Please arrive at least 15 minutes early and proceed directly to the Check-in Table located at the entrance by the SENS play structure.
A designated "Screener" will first take your temperature with a non-touch, infra-red thermometer. Anyone with a temperature of 100.4 or more will be kindly asked to return home.
Masks are required at all times.
At the Check-in Table you will be asked for your name and contact info if you have not reserved.
SEATING
Chairs will be placed 6ft apart in all directions. Two chairs will be placed together for those who wish to sit with family members. Please do not sit next to friends with whom you have not quarantined.
Seating is limited. We will add services if it appears we need to.
Donation baskets will be placed on designated tables as offering plates will not be passed by ushers.
Hand-sanitizer will be stationed around the worship area for your convenience.
WORSHIP AND FELLOWSHIP
The service will be Holy Eucharist with a short Homily: Communion will be distributed—bread only and no wine.
There will be no procession.
Masks must be worn at all times.
There will be no music, or minimal music. We are not able to sing at this time.
Please consider downloading your bulletin and printing at home. Bulletins will be provided on your seats. You will also be able to download on tablets, smartphones or any other devices.
Unfortunately, no shaking hands, hugging or kissing at the peace.
Communion will be distributed at your seats at the end of the service. Once each row has received communion, the service will be over. Please make your way to the parking lot.
We know that you will want to stay to speak with your friends! Unfortunately, we will not be able to provide coffee hour. Please adhere to all social distancing guidelines and stay 6ft apart while walking to your car.
There is no childcare or Sunday School until further notice.